Written by

Paul Kubik

Hits: 1204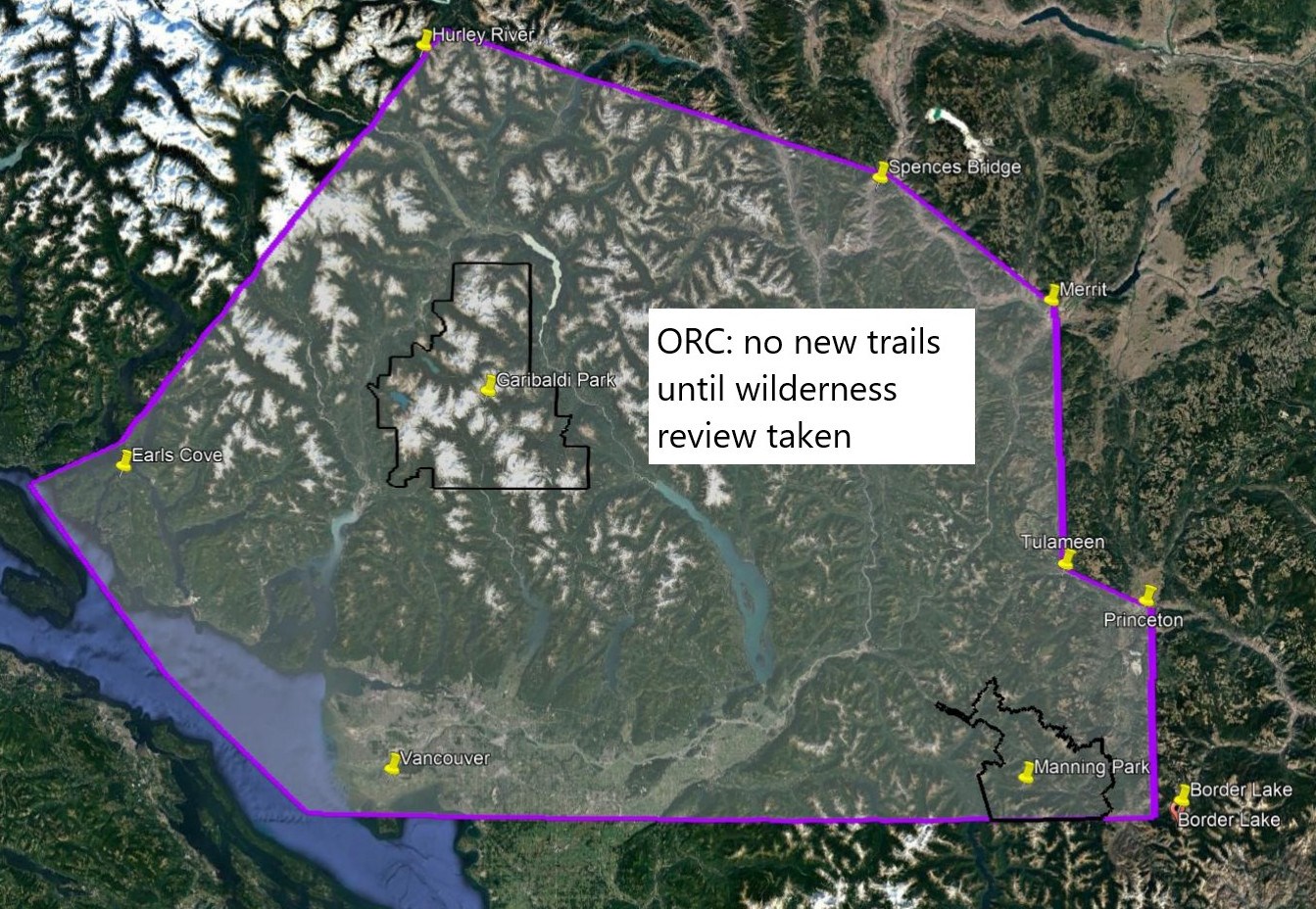 Outdoor Recreation Council of BC position: No new hiking trails within 160 km (average) of Vancouver "until a wilderness survey is complete."
In a sweeping arc from Border Lake in the upper Pasayten River to Princeton, Tulameen, Merritt, Spences Bridge, Hurley River, Earls Cove down to Vancouver the Outdoor Recreation Council of BC has called for no new hiking trails to be developed "until a wilderness area survey is complete." The area encompasses approximately 40,000 square kilometers. For comparison, Garibaldi Provincial Park encompasses about 2,000 square kilometers. ORC exempts from its review any already approved trails or those for Pinecone Burke and Mount Seymour provincial parks. Those two parks have planning processes underway.
The 160 km (average distance) is "limited to the Lower Mainland - within a 3 hour travel time [from Vancouver] so Sunshine Coast/Lillooet/Boston Bar/Manning- as that is where wilderness is under most threat" according to ORC.
ORC did not specify what the parameters of the review are, its definition of wilderness, nor the time frame in which it would complete.
In 1980, an inventory of wilderness areas within 150 km of Vancouver, conducted for the Federation of Mountain Clubs of B.C., identified the northern portion of the [Pinecone Burke] Park as the closest true wilderness area to the Lower Mainland outside parks that were already regulated at that time (Garibaldi, Golden Ears Provincial Parks), and the closest intact wilderness area to Vancouver. — Management Plan, Background Report Draft, for Pinecone Burke Provincial Park, BC Parks (undated)
Around 1985, wilderness management was incorporated into the mandate of Ministry of Forests.
According to the BC Mountaineering Club, a "wilderness review is a needless duplication of matters undertaken by the province."