Written by

Chris Ludwig

Hits: 991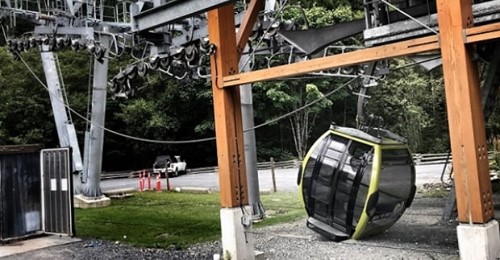 Almost all of the 30 gondola cars attached to the cable crashed to the ground around 4 a.m. on Saturday
RCMP say they believe someone deliberately cut the cable of the Sea-to-Sky gondola located along Highway 99 in Squamish, B.C., felling the two-kilometre cable route early Saturday morning.
The gondola, which wasn't operating at the time, normally carries up to 240 passengers at a time on its 30 cars. The trip from the base to the summit 885 metres above sea level lasts approximately 10 minutes and gives visitors views over Howe Sound. It is a major tourist destination in B.C.
"We believe the cables were cut and this was a deliberate act of vandalism, " said Inspector Kara Triance with Squamish RCMP.
"At this time, it's a crime scene."
Almost all of the 30 gondola cars attached to the cable crashed to the ground at around 4 a.m., according to staff working overnight. No injuries have been reported as a result of the incident.
Full Article: https://www.cbc.ca/news/canada/british-columbia/squamish-gondola-falls-1.5242787?fbclid=IwAR3HXwyuCB3Z2fv2d212xqSDwUZqc34IPrEEX-4mccDNQRGlzmkdVkW8zXc