The latest Blackcomb Master Development Agreement was adopted in 2017 and specifies a dedicated corridor for accessing the Spearhead range from the bottom of the mountain

At the present time (Nov 2019) Vail Resorts has not designated a corridor as required by the agreement and Mountain Resorts Branch is not enforcing the public interest specified in the agreement.
A number of meetings and communications were held between January and July of 2019 to discuss the implementation of such a corridor. It was determined that the safest corridor would go up the Gondola Road and Sunset Blvd runs from the base 2 parking lot to the bottom of 7th Heaven. The groups represented at the meetings were Mountain Resorts Branch of FLNRO, BC Parks, Vail Resorts, and a number of stakeholders. It became apparent fairly quickly that no substantive changes were being made to establish such a corridor in time for the 2019/2020 ski season.
Until Mountain Resorts Branch and/or Vail Resorts designates a corridor as the MDA requires we are recommending uphill travel via Gondola Road and Sunset Blvd. These runs are the least impacted by avalanche clearing operations, are low angle green runs, and have very good site lines for both uphill and downhill traffic. You generally access the Spearhead by travelling SE from the bottom of the 7th Heaven lift and up the valley between Blackcomb and Decker. We have provided a map and downloadable track of the corridor below.
This can be used for day access to Blackcomb, Spearhead, Decker, Phalanx, Trorey, Pattison, Tremor, and Shudder mountains. This is one of the most spectacular backcountry ski areas in Garibaldi Park. It takes approximately 2.5 hours to reach the base of 7th via this approach. I have included supporting letters and documentation of the negotiations that have occurred to this point. See photo albums of the various objectives that are possible in this area. They were all done as day trips.
Issue Lead Advocate - Bill Maurer
2019-01-22 Blackcomb Ski Patrol claiming no uphill travel allowed through CRA
2019-01-25 Letter to Mountain Resorts Branch and BC Parks requesting corridor
2019-03-27 Meeting invitation from Mountain Resorts Branch
2019-04-24 Meeting Minutes
2019-05-04 Trip to Trorey
2019-06-14 Meeting Request
2019-06-18 Letter to Working Group expressing frustration at lack of progress
2019-07-04 Notice of cancellation of working group by Mountain Resorts Branch
2019-11-18 Letter to MRB requesting status of corridor discussions with Vail
2019-11-28 Pique - Uphill Battle
2019-12-05 Pique - Action will speak lourder than words
---
Total Elevation Gain

988 m
Total Elevation Loss

22 m
Values not available in the file may shown as 0.
This track was downloaded 10 time(s).
Please register/login to download this track.
Spearhead Photo Albums:
Written by

Chris Ludwig

Hits: 1132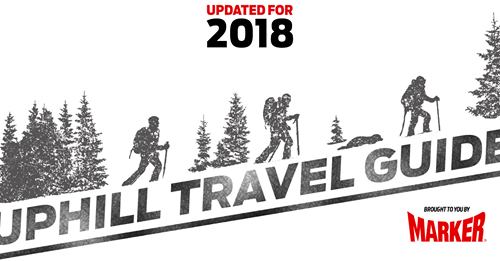 The article below features a fine list of American Ski Resorts that allow uphill travel, including Vail's home resort. There are now well over 80 resorts in North America that allow it. Perhaps our Canadian resorts, such as Whistler Blackcomb, will get with the times and come to the same conclusion that so many other resorts have. Uphill travel is good for public relations and good for business. Backcountry skiing is growing, but downhill skiing, not so much.
-x-
Across the U.S., the popularity of skiing uphill is growing like mad. As it does, people aren't just looking to the backcountry, but are also directing their skinning toward resorts to fill their fitness quota while getting some fresh air. And as more and more skiers flock to the groomers at all hours of the day, resorts are creating and modifying their guidelines to help the uphill inclined stay safe while skinning before, during and after hours.
To enable your uphill aspirations, we've compiled a list of resorts around the U.S. and their uphill policies, so you can hit the skinner knowing you're in compliance with your local hill's rules.
These policies are constantly evolving (this list was updated on January 1, 2018), so check on the resort's website for their full details about where and when you can skin and how to do it safely. And remember that when it comes to safety, courtesy and common sense rule—stay to the sides of trails, wear lights at night, keep away from machinery and closed terrain and generally leave Fido at home.
Full Article:

https://backcountrymagazine.com/uphill-travel-guide-resort-skinning-policies/?fbclid=IwAR2dpzOFbVVeIvtw14i_ws0bvUKKj05d5WfdCXdSE_I3v4XqllmyxkNnrIA