Written by

Chris Ludwig

Hits: 3349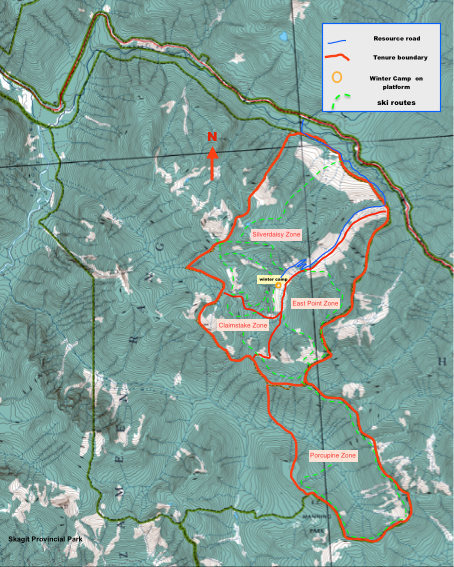 Another Day, another 15 KM2/1,852 Hectare adventure tourism/commercial recreation permit application (including a Yurt) at Silverdaisy Mountain (see and submit comments on the application at the following link).
https://arfd.gov.bc.ca/ApplicationPosting/viewpost.jsp?PostID=55391&fbclid=IwAR0tmrNOKrP9R2bZqKwSfLhRgzBNLwEDEZl4SMJt0dyVZStxplwmP5k9oFg
I have never been a traditional "tree hugger" conservationist type and have always believed that there should be a balance between public recreation, commercial operations and pure conservation. In light of all of the recent commercial land applications/tenures, I am starting to ask the question "what happens if we run out of land?". I also wonder and question my own concept and notion of what constitutes "Wilderness", and in fact do we have much if any "Wilderness" left anymore.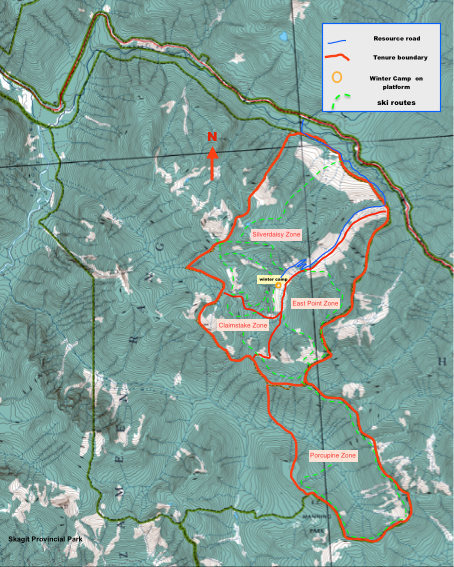 -x-
The Application: (June 8, 2018)
Client: Berntsen Enterprises Limited
Purpose: COMMERCIAL RECREATION/MULTIPLE USE
Region: Lower Mainland, Surrey
Agency: Crown Land Allocation
File: #2411996
Location: Silverdaisy Mountain
Area (Hectares): 1,852.09 ha +-
BCGS Mapsheet: 92H015 92H 016
Legal Description: see below
Legal Description: THAT PART OF DL1584, BEING A.M. NO. 4 MINERAL CLAIM, DL533, BEING VERNON 4 MINERAL CLAIM, DL1586, BEING A.M. MINERAL CLAIM, DL1587, BEING A.M. NO. 2 MINERAL CLAIM, DL1577, BEING A.M. NO. 3 MINERAL CLAIM, DL1585, BEING AUGUSTUS NO. 5 FRACTION MINERAL CLAIM TOGETHER WITH THAT PARCEL OR TRACT OF LAND IN THE VICINITY OF SILVERDAISY MOUNTAIN, YDYD

The tenure application is approximately 15 square kilometers. Vehicle access is from Highway 3, 38 km east of Hope, at a pullout and parking area, called Cayuse Flats. The trail access to the area is along a resource road through a corridor of Manning Provincial Park. The road generally follows the Manning Park boundary for approximately 3.5kms, after which the road moves entirely into crown land.
The project is considered for extensive use and consists of installing a temporary structure that would provide passing accommodation for recreational users in the surrounding area and for using existing trails and resource roads for recreation activities. In winter and summer seasons, self-propelled activities such as ski touring, snowshoeing, avalanche training, hiking and possibly mountain biking are being proposed. The winter season occurring from January to March the summer season from July to September. If users? response is positive building a cabin in the future may be an option in which case the cabin construction will fall under intensive use and will require an amendment to the existing use if authorized.

Please refer to Management Plan and Appendices for detailed information: https://arfd.gov.bc.ca/ApplicationPosting/viewpost.jsp?PostID=55391&fbclid=IwAR0tmrNOKrP9R2bZqKwSfLhRgzBNLwEDEZl4SMJt0dyVZStxplwmP5k9oFg