On the west flank of the Garibaldi massif (Dalton Dome, Mount Atwell and Mount Garibaldi) there is important mountain goat winter range identified by the province as UWR MQ-1, meaning "ungulate winter range". It is one of the largest winter ranges identified for mountain goats in the south coast region. There are several threats to its viability that are emerging. It is suggested that UWR MQ-1 be given enhanced protection by either adding the entire UWR area to Garibaldi Provincial Park or establishing it as a conservancy. The emerging threats are resort development on Brohm Ridge, a proposed wilderness lodge on Brohm Ridge inside the UWR MQ-1 boundary and potential impacts arising from a planned debris barrier in Cheekye River.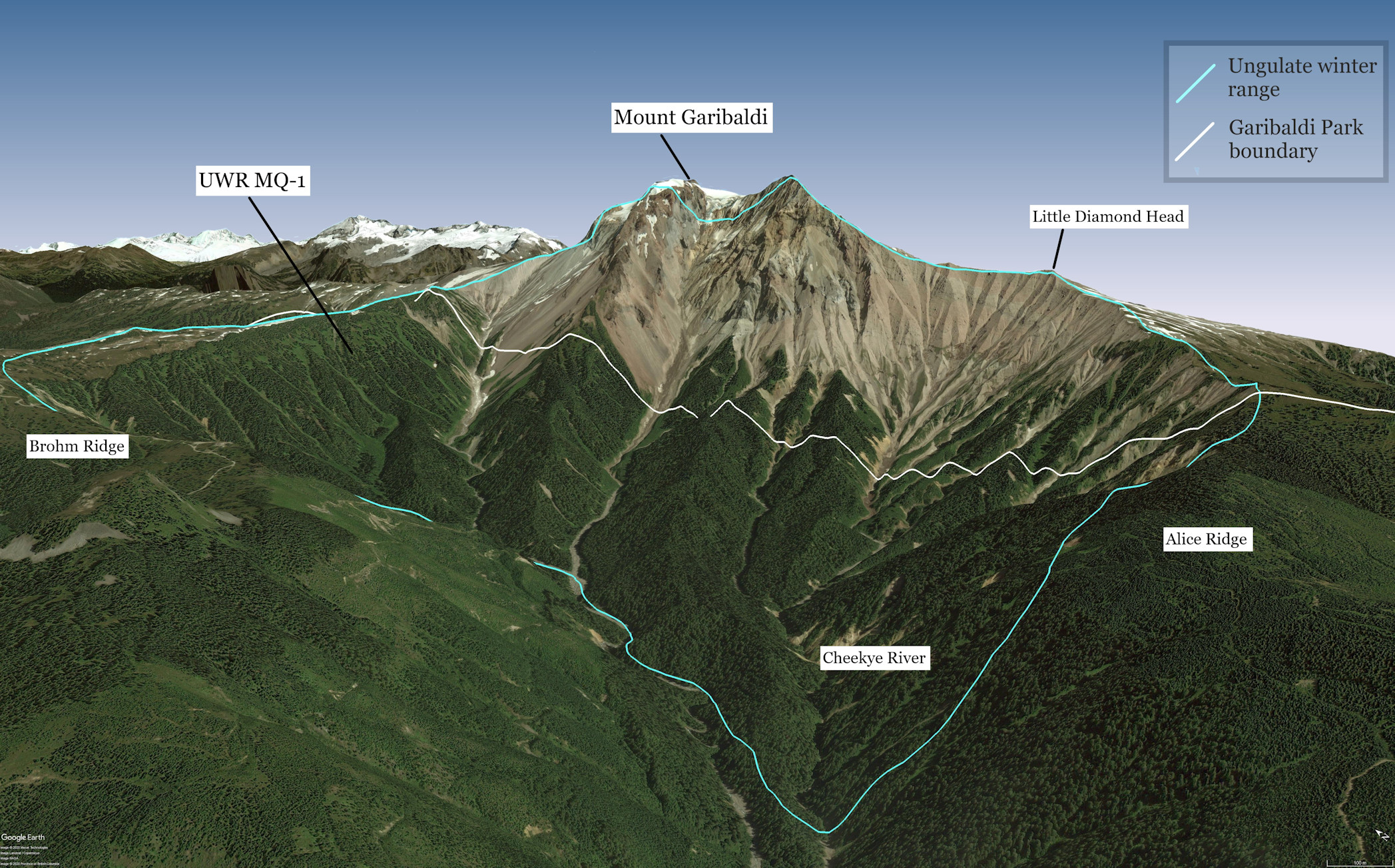 The proposed resort development on Brohm Ridge commissioned an environmental assessment that studied impacts on mountain goats. However, it only looked at impacts within the proposed resort boundary. It did not assess the impact of the resort on the winter range nor did it examine mountain goat migration in spring and fall through the resort to and from summer range. It did not examine the impact on potential migration in winter between MQ-1 and two identified winter ranges on Clinker Ridge (WR-2, WR-3), east of Chek Canyon. It did not look at where goats give birth (possibly in MQ-1 before moving to summer range) and the vulnerability of mothers and kids to increased development. Clearly, more study is called for. A wilderness lodge is proposed for inside the designated winter range. A lodge is a totally inappropriate development inside mountain goat winter range.
A $45 million debris barrier is planned for Cheekye River to enable a housing development in Brackendale. At this time, it appears the barrier will be below the ungulate winter range in the Cheekye River.