In March of 2019 we got lucky. Graham R. from Black Tusk Snowmobile Club let me know that the Mamquam FSR had been plowed for winter logging on the approach to Knothole Lake. It meant we could drive part way up, which considerably lessened the length of approach. In mid-March we found a sunny day midweek and a party of four backcountry skiers headed up.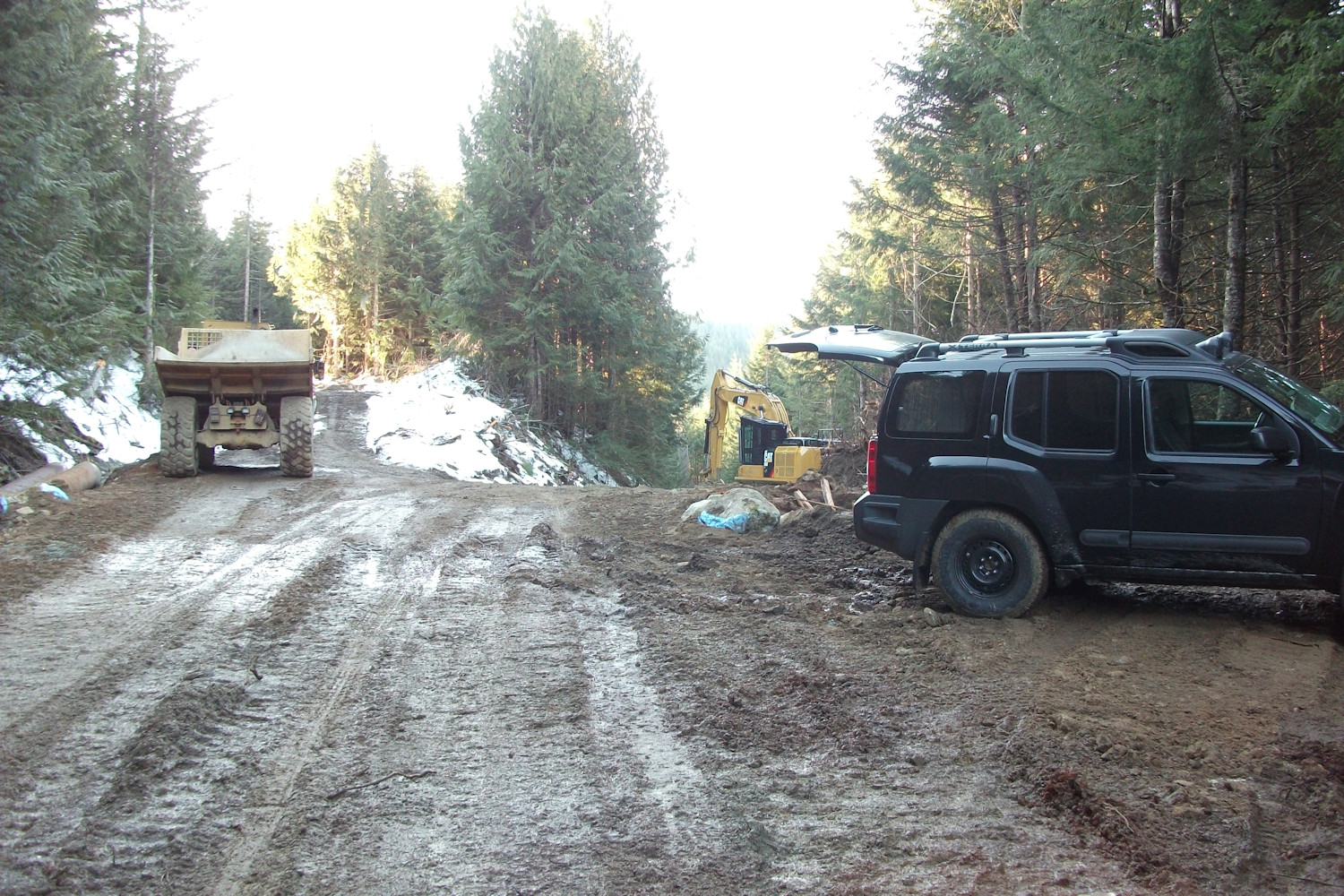 We parked near the logging area at 750 meters elevation.
That's only part of the difficulties. We had to find the old logging road called M21. We hit it dead on but it had been heavily deactivated more than 20 years previously and was very overgrown. Fortunately, there was decent snowpack and the difficulties lessened the higher we got as snow covered up the bush and ditches.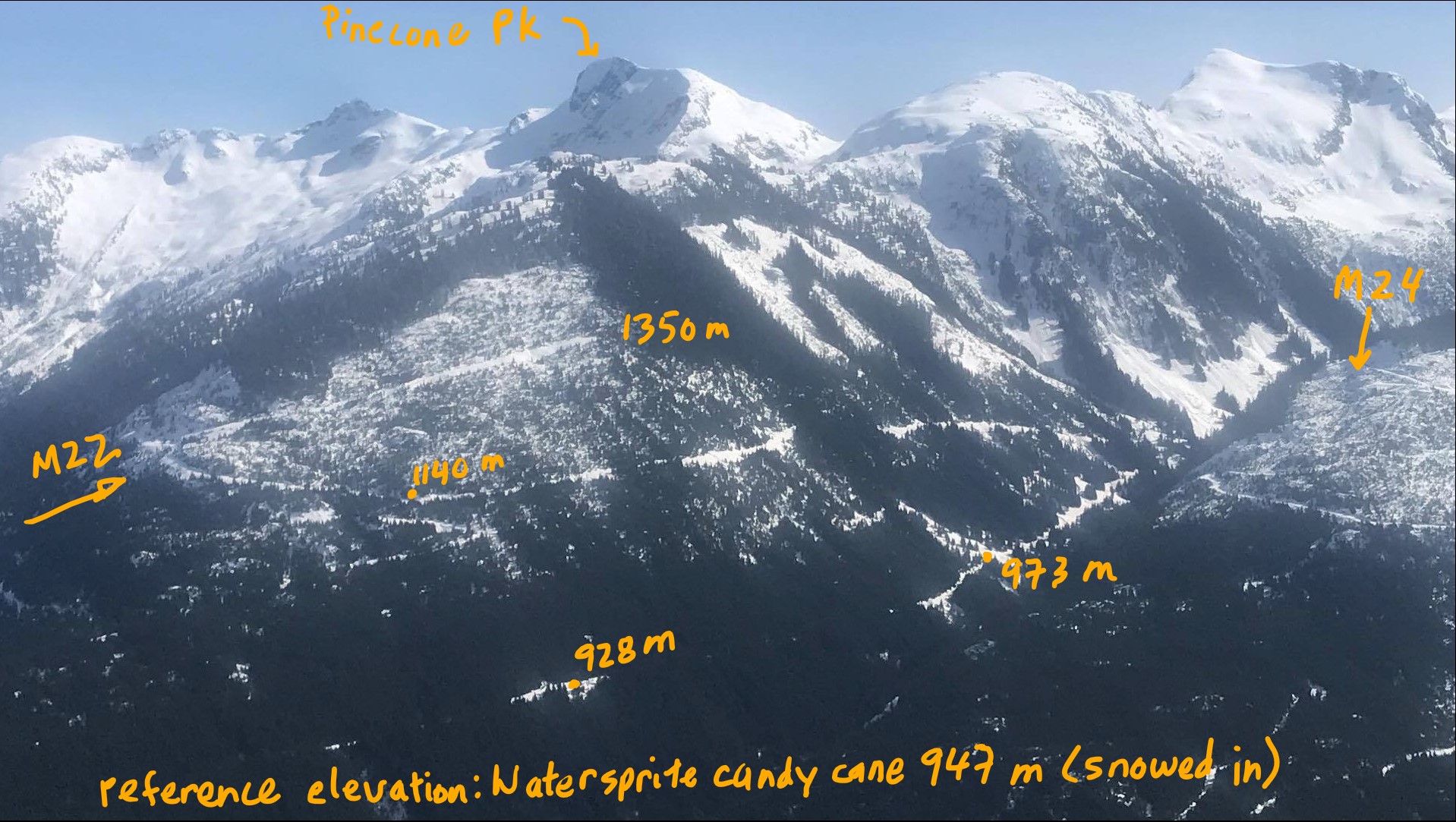 A look at our route up. Graham Roberge photo but the mark up is mine.
From the top of the logging road, it is a very steep climb up to the ridge, which leads east towards Knothole Lake.

The ridge opened up nicely but we had to drop a bit to the next bump and then were able to contour around it. There were mountain goat tracks going up and over.
At Knothole Lake, there was a decision needed. Should be go up Pinecone Peak on the left or the enticing ski peak to the right.
The March sun was strong and the south-facing slopes on Pinecone Peak were sliding.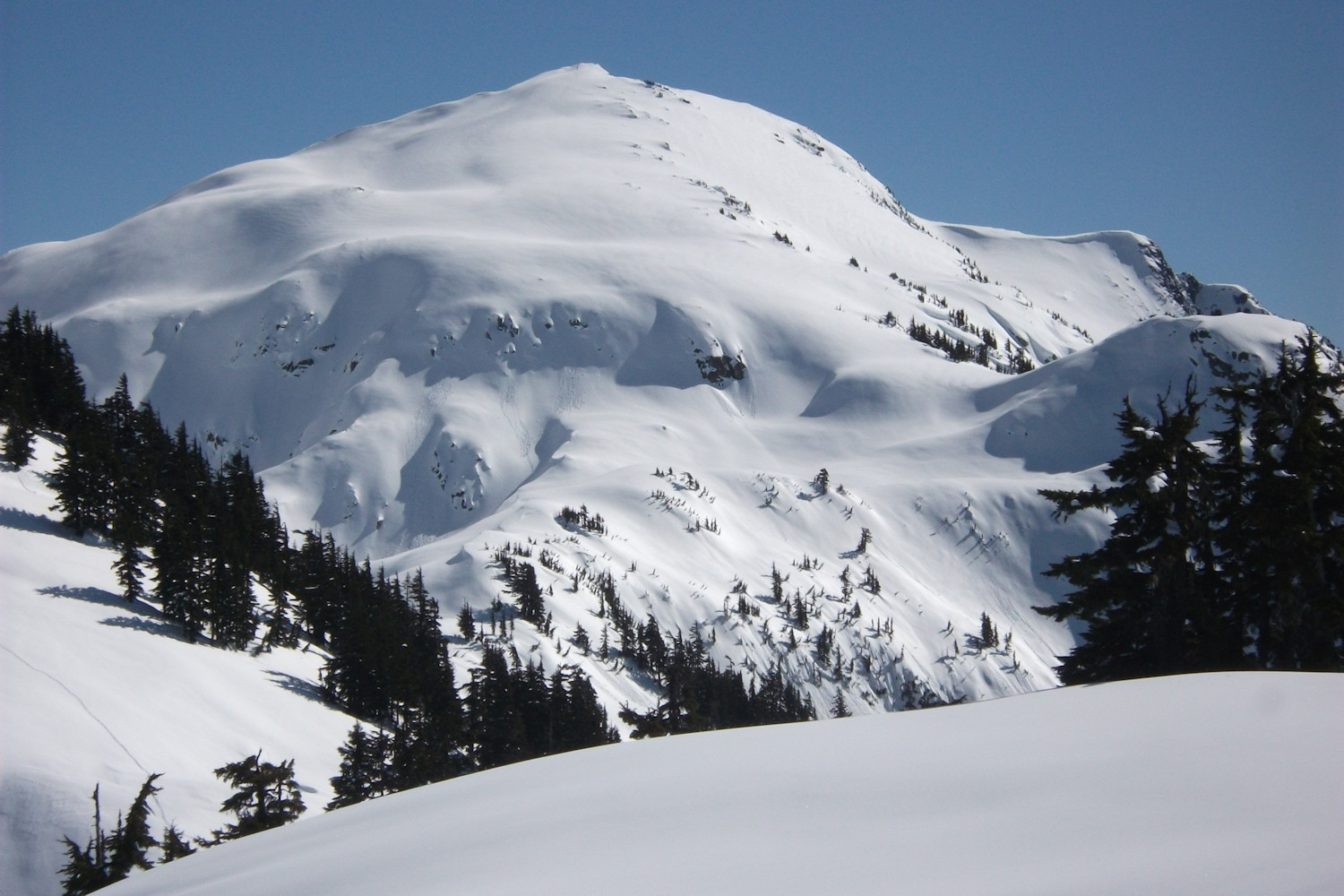 It was an easy decision to head to the right and go up the north-facing slopes of Knothole Ski Peak, or KSP.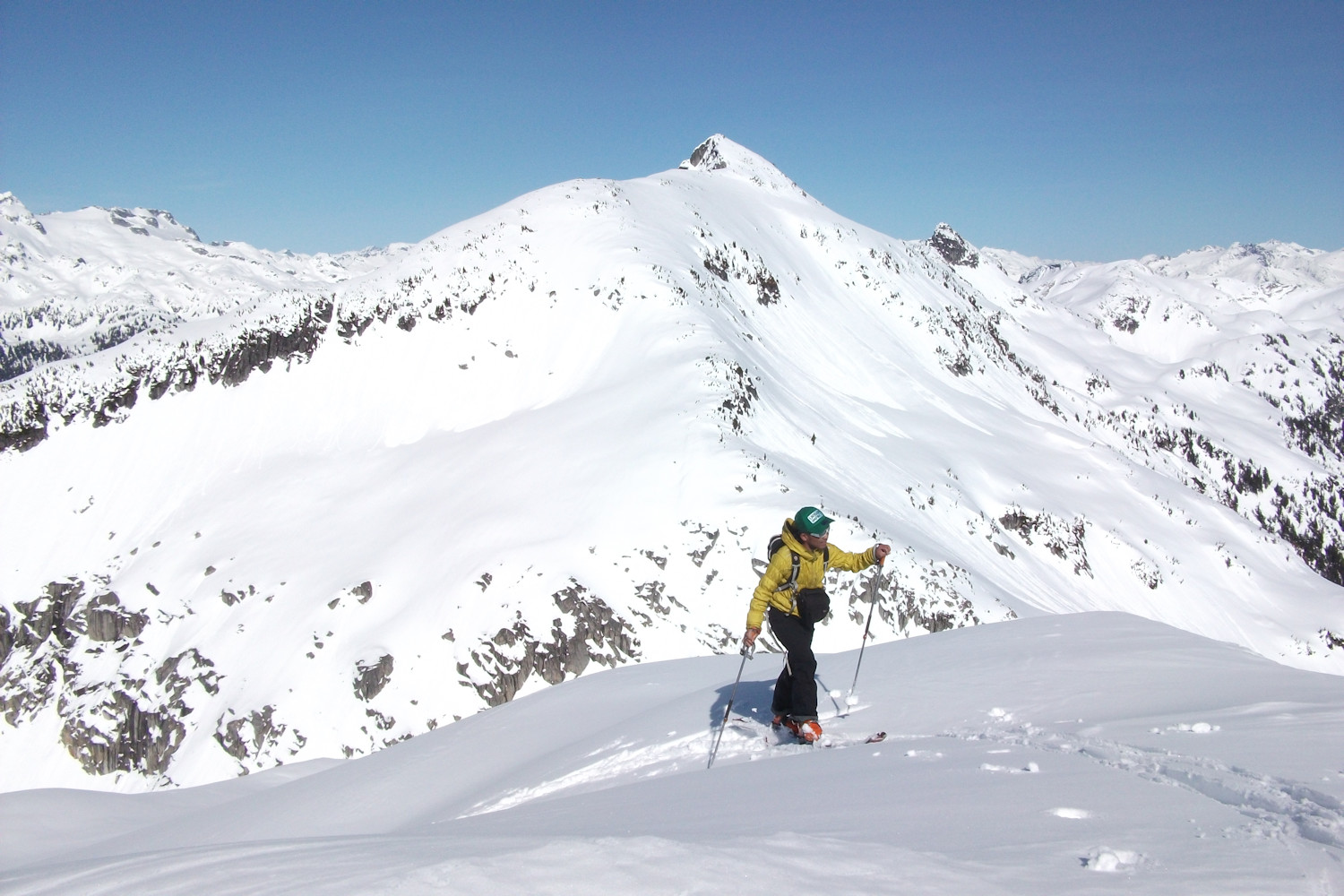 Dean Perez approaching the summit of KSP. Pinecone Peak behind him.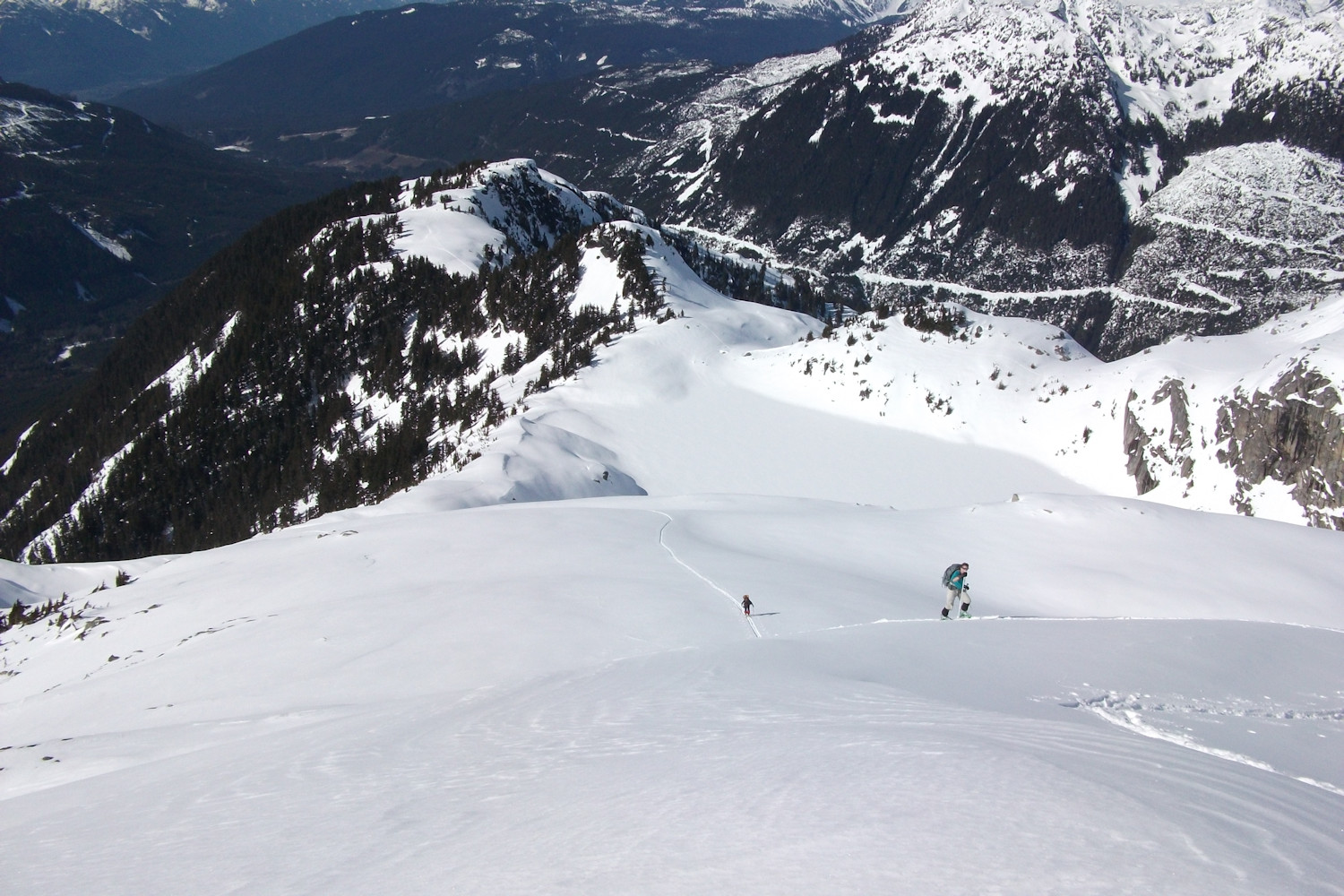 Looking down the pleasant slopes of KSP to Knothole Lake.

Looking east to Pinecone Lake.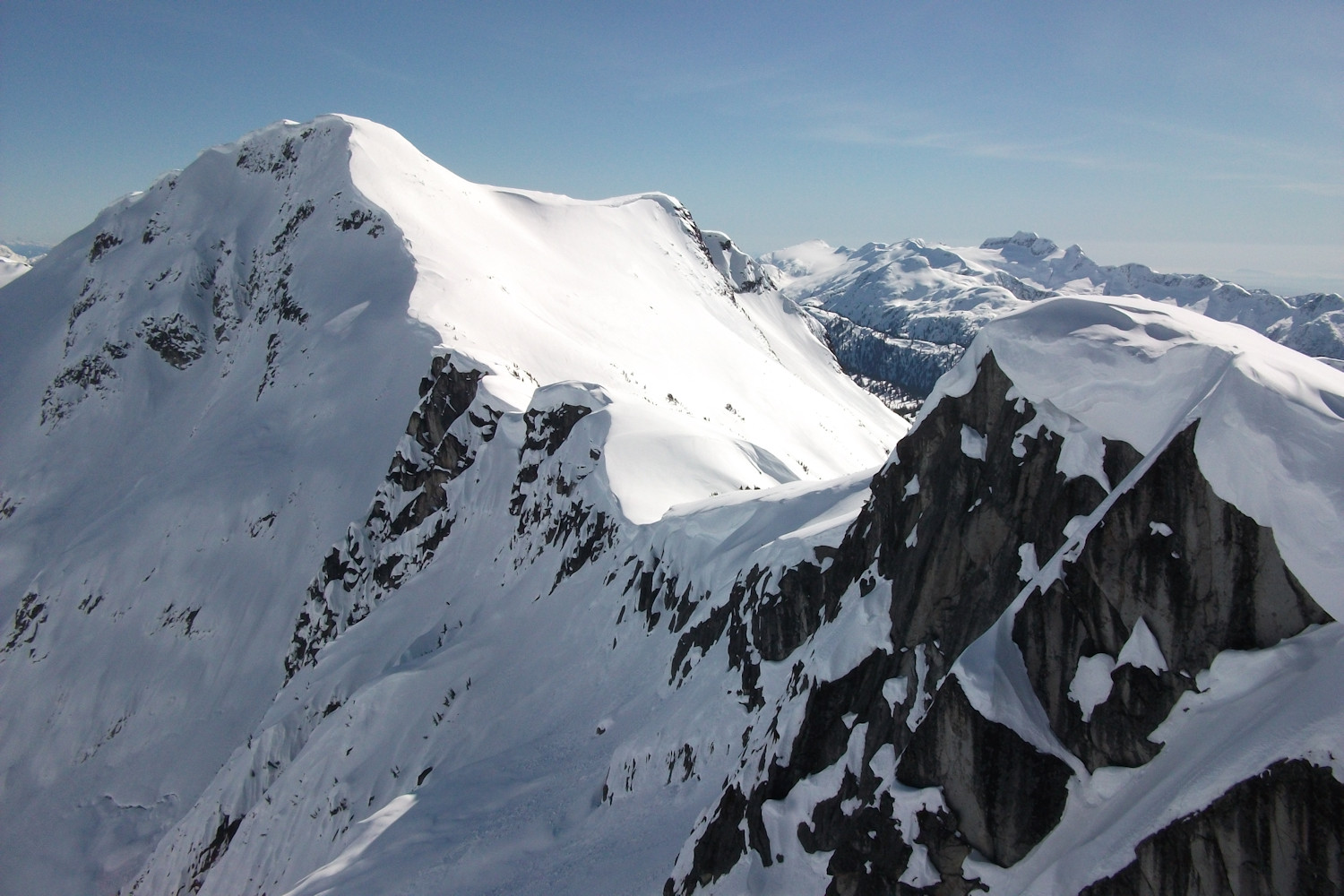 Looking south to Seed Peak.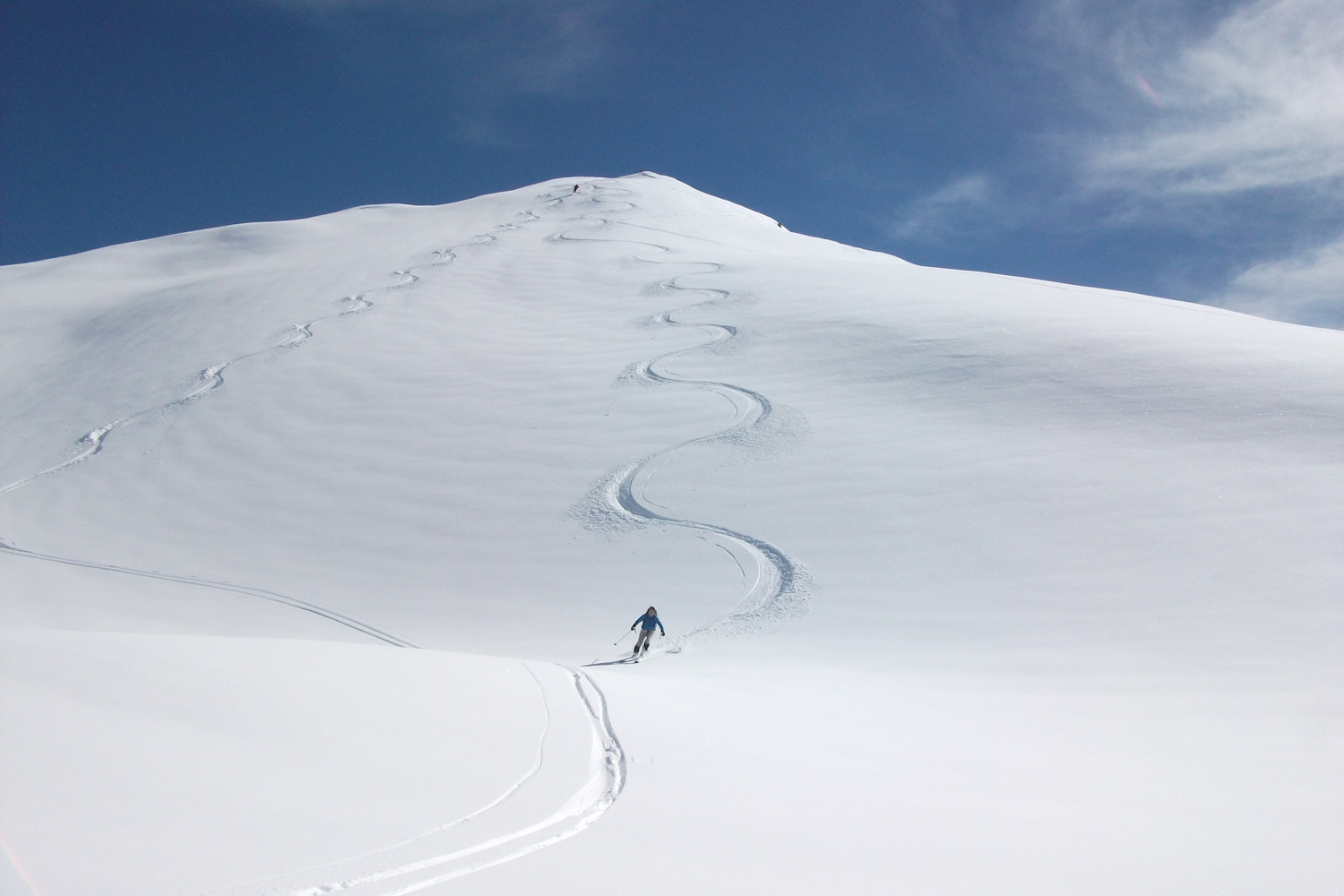 Darlene Anderson on KSP.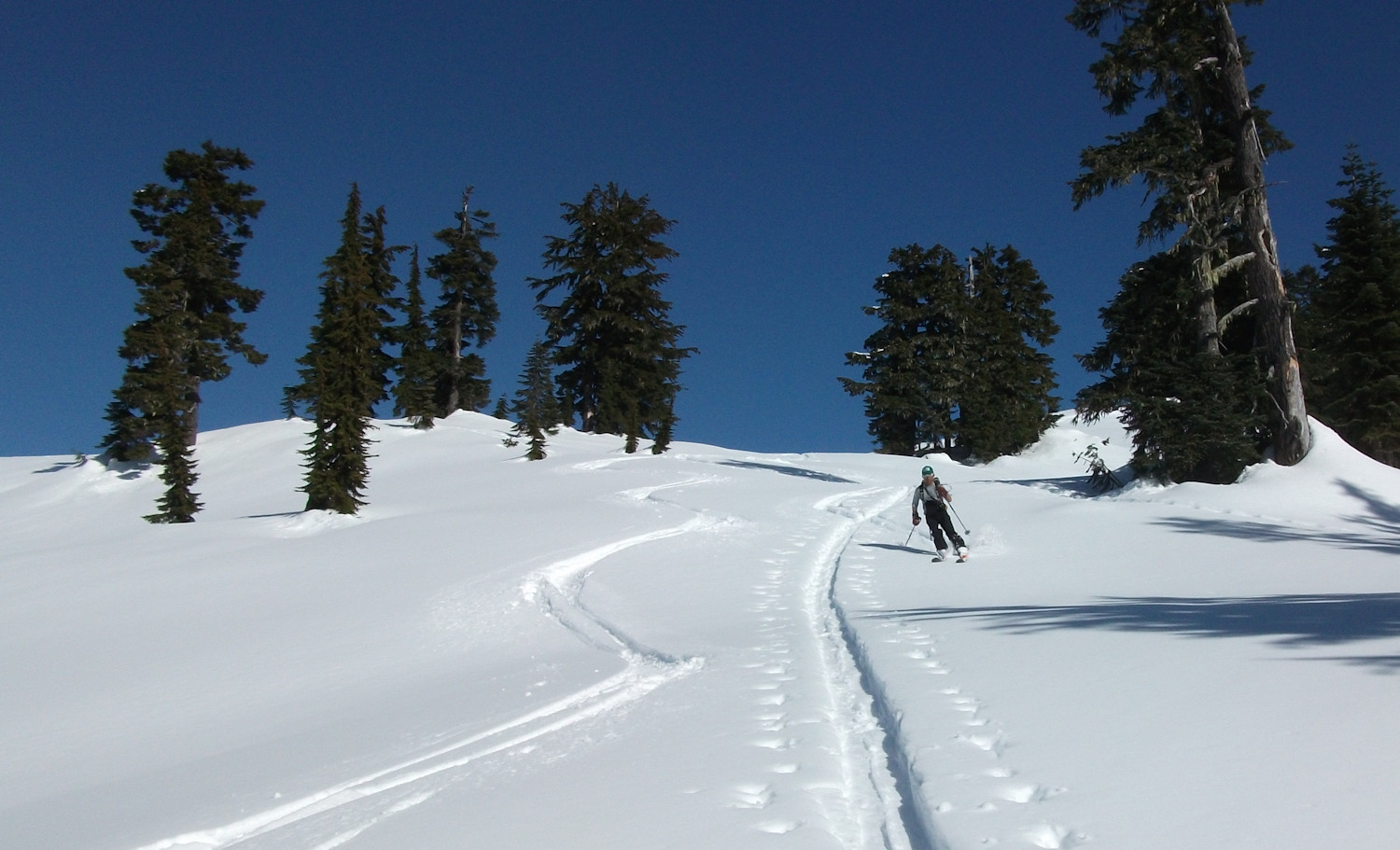 Dean coming down the ridge.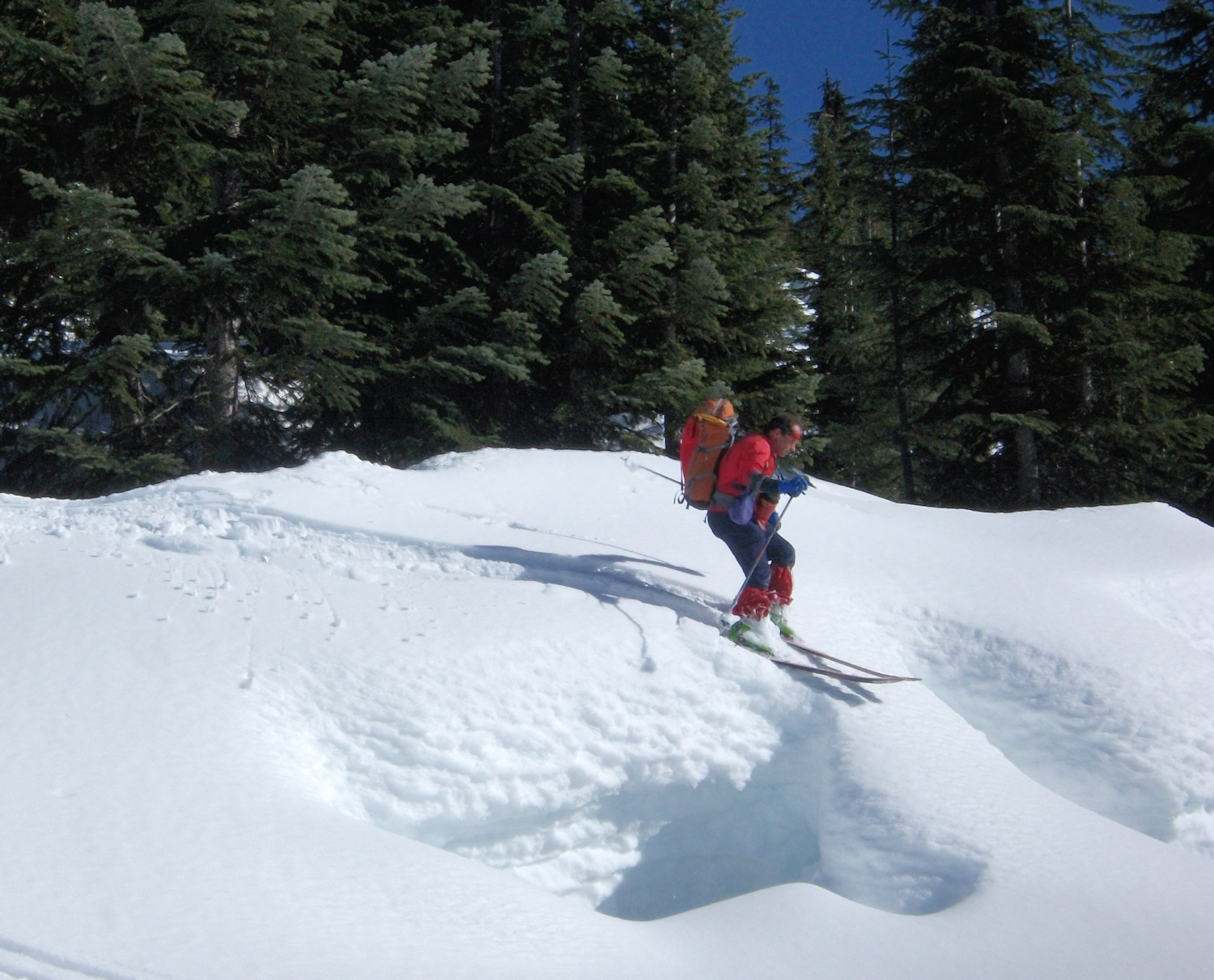 Greg Stoltmann.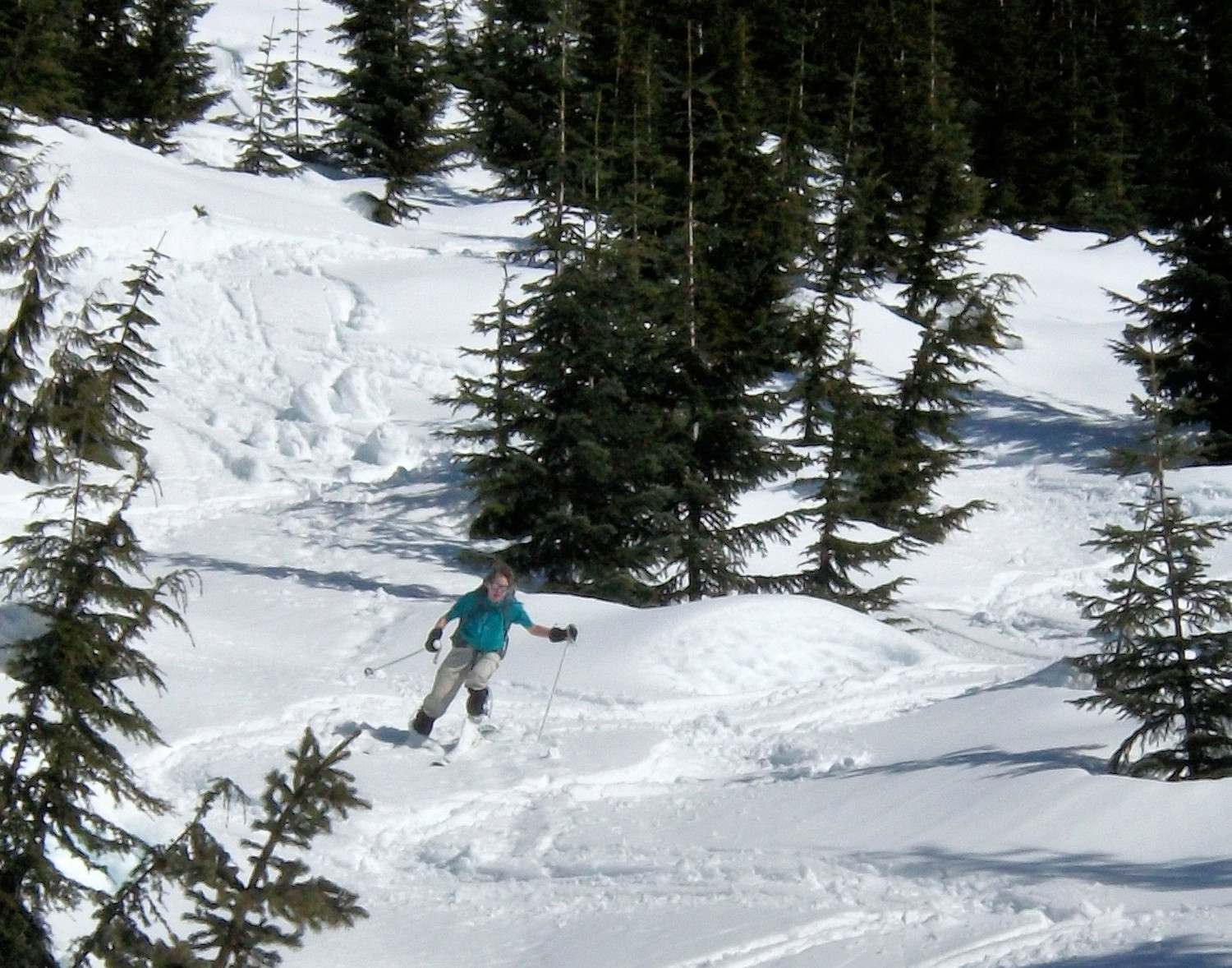 Darlene in the logging slash above the road.
This is a pretty decent spring ski trip. We went back again in 2020 on a very stormy day in early March. We couldn't drive as far. We parked about 5 km lower down on the Mamquam FSR. The M21 road had been deactivated once again with cross-ditches since our last trip. In February, there had been a "pineapple express" rain event or atmospheric river. The snowpack on the road had been severely trenched by the runoff. Here's a few photos of the road conditions on the 2020 trip.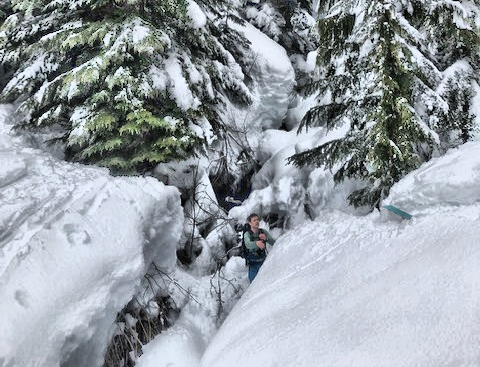 Trench warfare: Alex Shvetsov.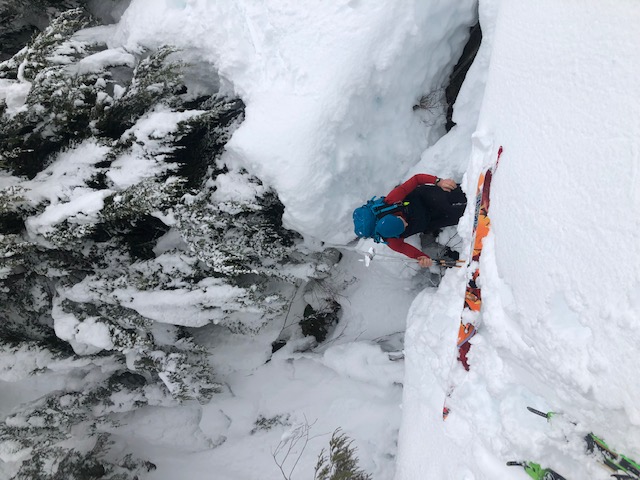 Trench warfare: Darren Quist.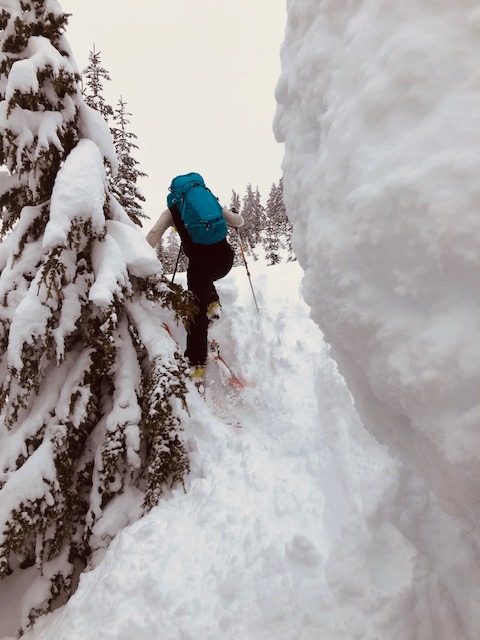 There were more than a dozen of these massive trenches that we had to cross. Some of them we could side slip down and ski up again but several forced us off skis to climb down and up. Needless to say, it was time-consuming. Coupled with the bad weather and the longer approach, we were only able to reach the subalpine area of the ridge. Visibility diminished and without trees as reference points it was foolhardy to continue. But the snow was good powder on the descent.
All things considered, Knothole Ski Peak is a great destination for a day trip but minimum requirements are: (1) good weather, (2) deep snowpack, especially lower down, (3) no recent heavy rain that would trench the snow on the road, (4) being able to drive to M21 or not far from it.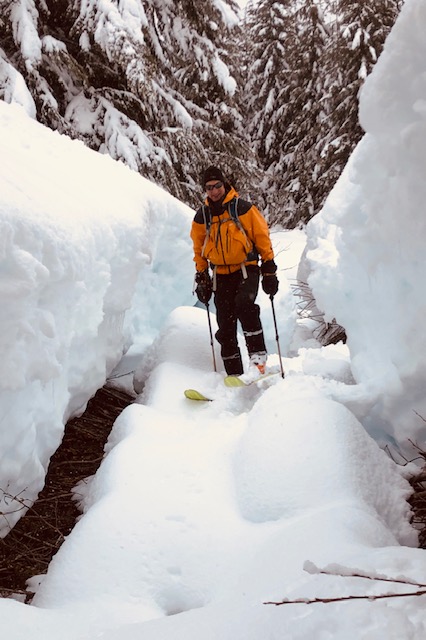 Trench warfare: Roger Barany.